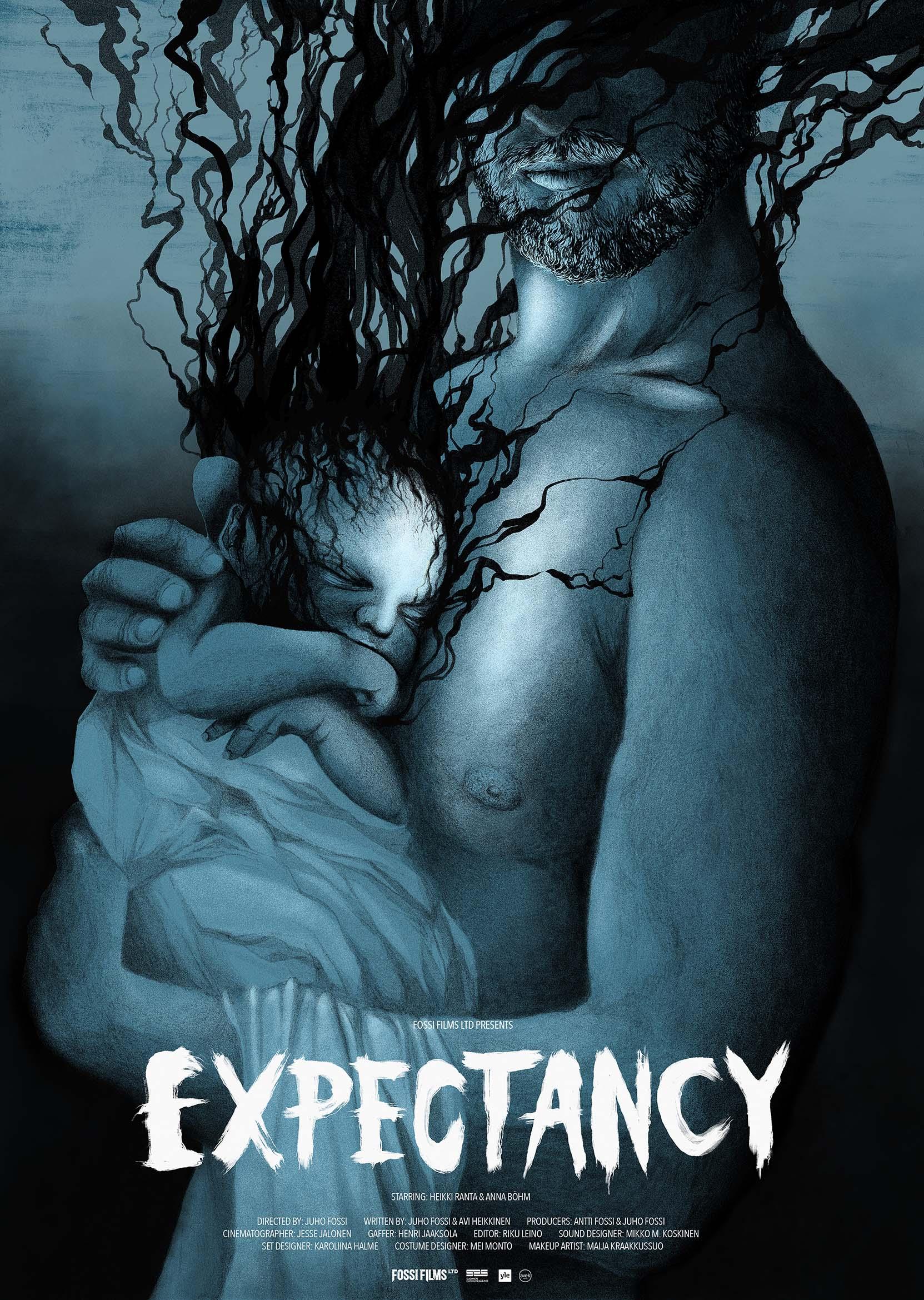 Synopsis:

Alex is left alone for the weekend to renovate a room for his and his wife's unborn child. Soon, a baby monitor starts to play him horrifying sounds about his future failures as a father.
Expectancy is a 14-minute psychological horror film about the fears of becoming a father and a dread-filled cautionary tale.
Director: Juho Fossi
Writers: Avi Heikkinen, Juho Fossi
Original idea: Avi Heikkinen
Cast: Heikki Ranta, Anna Böhm

Year of production: 2020
Production grant: The Finnish Film Foundation, AVEK, YLE
Sales: Fossi Films & 7 Palms Entertainment

IMDB
Director's statement:

Throughout history horror films have been used as great tools to deal with our deepest and darkest, yet humane fears. In Expectancy those fears are linked to parenting and fatherhood.
How can we be sure that our children grow into good human beings? Are we as parents responsible for our children's possible bad choices and future actions?
It is perfectly normal to be afraid of having a baby and becoming a father. But be careful… What consumes your mind, controls your life.
Synopsis suomeksi:
Alex jää yksin viikonlopuksi remontoimaan lastenhuonetta tulevalle vauvalle. Pian itkuhälytin alkaa lähettää ääniä hänen tulevista epäonnistumisistaan isänä.
Odotusaika on 14-minuuttinen psykologinen kauhuelokuva isäksi tulemisen peloista.
Ohjaajan sana:

Kautta historian kauhuelokuvat ovat toimineet oivallisina välineinä tarkastella syvimpiä, inhimillisiä pelkojamme. Odotusajassa nuo pelot liittyvät isyyteen ja vanhemmuuteen.

Miten voimme olla varmoja siitä, että lapsemme kasvavat hyviksi ihmisiksi? Olemmeko vanhempina vastuussa lastemme mahdollisista pahoista teoista?

On täysin normaalia pelätä isäksi tulemista, mutta on oltava varovainen, sillä pelot ottavat pään sisällä yllättävänkin helposti vallan.
Film Festivals:

08/2020 Night Visions, Finland
09/2020 MotelX, Portugal
10/2020 IIK!, Finland (Winner of Jury & Audience Awards)
11/2020 Brest European Short Film Festival, France
11/2020 Pori Film Festival, Finland
03/2021 Frostbiter: Icelandic Horror Film Festival, Iceland
03/2021 Tampere Film Festival, Generation XYZ, Finland
04/2021 Brussels International Fantastic Film Festival, Belgium
06/2021 Haapsalu Fantasy & Horror Film Festival, Estonia
07/2021 Bucheon International Fantastic Film Festival, South Korea
07/2021 Grossmann Fantastic Film and Wine Festival, Slovenia
08/2021 Ravenheart International Film Festival, Norway
08/2021 Macabro: Mexico City International Horror Film Festival
08/2021 Nót Film Festival, Italy
09/2021 Fantastic Fest, USA
10/2021 Telluride Horror Show, USA
11/2021 Molins Horror Film Festival
11/2021 Lund International Fantastisk Film Festival, Sweden
12/2021 Night Visions Turku, Finland
12/2021 Buenos Aires Rojo Sangre, Argentina
04/2022 Mecal – International Short Film Festival of Barcelona, Spain
04/2022 Landshut Short Film Festival, Germany
05/2022 FANT. Bilbao Fantasy Film Festival, Spain
06/2022 The Overlook Film Festival, New Orleans, U.S.
09/2022 Cinefantasy – International Fantastic Film Festival, São Paulo, Brazil
10/2022 Beyond Fest, L.A.
10/2022 Nightmares Film Festival, Columbus
11/2022 The Vancouver Horror Show Film Festival, Canada